Articles
/
4 Activities for the Storming Phase of Group Development
4 Activities for the Storming Phase of Group Development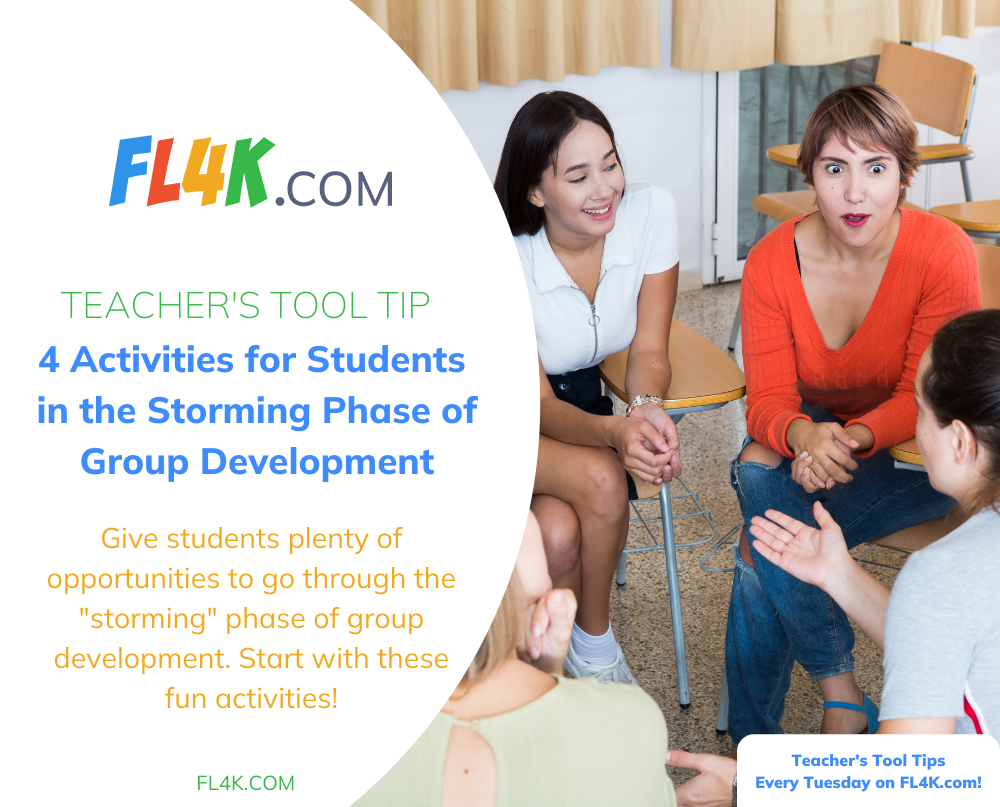 Reading Time:
3
minutes
Last week I mentioned some activities that can be used in the World Language classroom during the "forming" phase of group development. This week, I will address the next phase, "storming," the time when students may begin to share differing opinions and even compete with each other in the classroom.
Teachers can provide time and space for students to wrestle with ideas and even disagree, ultimately building trust, in preparation for the norming and performing phases of group development. 
The storming phase can be both controversial and fun at the same time if the teacher helps to monitor the group development in a healthy way.
Students can get to know more than the basic facts about each other. They can begin to play competitive games and participate in polls, and even discussions, that may force them to contend with differences of opinion. When conflicts arise, teachers must guide students to listen to each other and maintain respectful behavior toward one another at all times.  
Consider digital games for this phase of group development. 
Quizlet Live
Many of you already play Quizlet Live in the classroom. You can mix up the teams every few rounds and have individual students keep track of how many times they have won. The student with the most wins at the end of class might get their name posted on a leaderboard (poster and marker) for the Quizlet Live Champions.
In my classroom, this was very low stakes and fun for students. Usually, we had different winners every week and then, the rivalry would start to see how many times each one could be featured on the board.
This works well for the "storming" phase because the students get competitive and begin shouting with excitement all in very low-key fun!
Kahoot
Kahoot is another good competitive game in the classroom that can be used for review. It always amazes me how students come alive when they can compete with each other. You can put them in teams to eliminate embarrassment or intimidation. A lively round of Kahoot can create just the positive energy you are looking for in your 21st-century classroom! 
Speed Dating
Speed Dating works well for this phase of group development, too. Students can line up in two parallel lines with one line rotating as they exchange information about a cultural topic that they are studying.
The questions can be controversial in nature and pertain to a very specific set of vocabulary and expressions. The students can prepare ahead of time what they do to help protect the planet and why they think it is important. Then in lines or concentric circles, one group can move, each time sharing their information with a different student in the class. 
Projecting a picture and having the students guess what is going on in it can lead to some differences of opinion. When they finish arguing about their ideas, the teacher can tell them what was actually happening in the picture. This allows students to disagree in a fun and friendly way. 
FL4K
At FL4K we have several activities built into the program that promote the opportunity to both compete and express their own opinions. We have digitized the old-fashioned game of Fly Swatter into a modern game that builds oral proficiency in an engaging and intentional way.  Students get a digital flyswatter and can compete against each other to swat as many correct flies/answers as possible while simultaneously building language proficiency skills. 
Another FL4K feature with the culture program is a built-in polling option in real-time. Students can register their opinion about something pertaining to the culture they are learning and then find out how many in the class agree with them and how many do not.
The teacher can then lead a discussion about the polling topic. For example, after learning about the many waterfalls in Costa Rica, students can answer a poll that gives them the option to say whether they would like to swim under a waterfall or not. Students can then share why they might be interested or fearful.
We have 30-40 culture posts per unit with polling questions for many. It keeps students interested and engaged in practicing the language in a natural way.
Early in our language program, students learn "tener" expressions and can quite capably talk about what they are and are not afraid of. This can stimulate good conversation and again, get kids to handle controversial topics in a healthy way.  
What ways can you think of to create energy and excitement in your classroom that help students learn to compete, communicate, and accept differences of opinion with a priority of respecting each other? Have fun with the "storming" phase of group development!
Next week we will enjoy exploring the next phase of "norming." In the meantime, sign up for a free trial with FL4K!