Articles
/
A Homeschool Spanish Curriculum for Your Kids!
A Homeschool Spanish Curriculum for Your Kids!
Holly Morse
August 02, 2022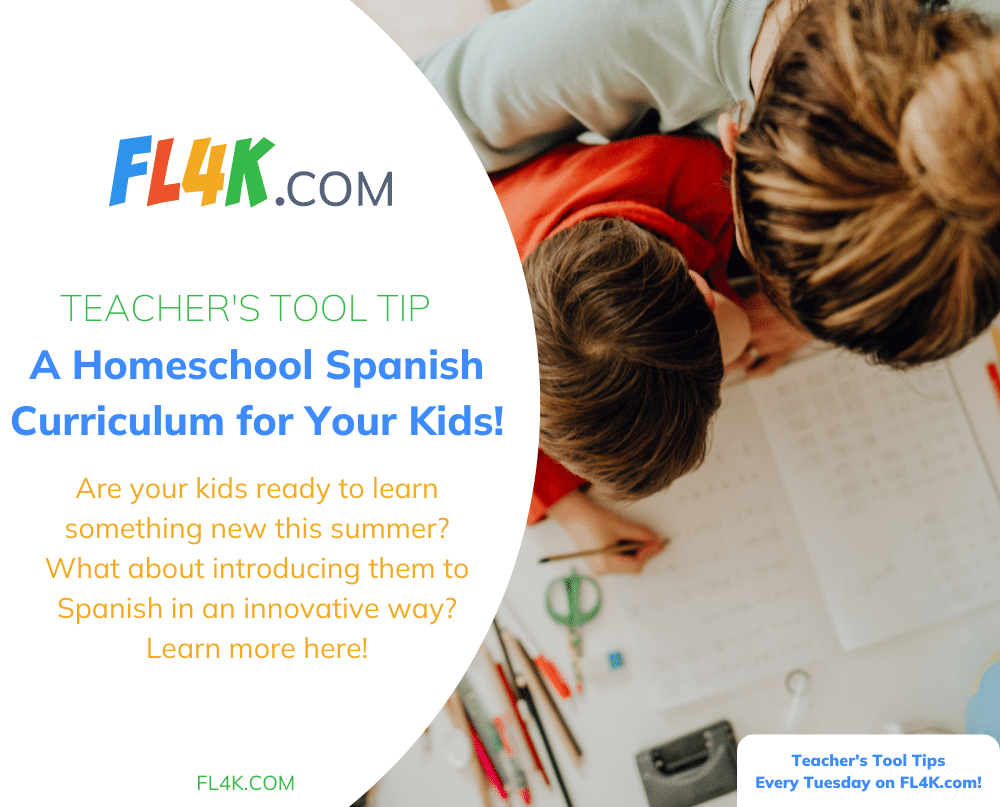 Reading Time:
2
minutes
Are your kids ready to learn something new this summer? What about introducing them to Spanish in an innovative way that includes culture, carefully scaffolded language to build proficiency, entertaining videos that teach vocabulary and grammar in a contextualized format, games specifically designed for language learning, a built-in language lab with unique recording features, and practice questions and assessments with feedback? 
Do You Need To Know Spanish As a Parent?
As a parent, you don't even need to know Spanish. You can actually learn along with your children! FL4K has been listening to teachers with over 100 years of combined experience in the classroom to build a state-of-the-art platform for language learning for kids. While the program will eventually be offered in many other languages, we are first rolling out our homeschool Spanish curriculum. 
One of the most unique features is that the students can study eight different Spanish-speaking cultures through 40-60 social media-like posts per country featuring incredible images and fascinating cultural information that builds proficiency in the Spanish language simultaneously. 
The FL4K Homeschool Spanish Curriculum Discussed
This homeschool Spanish curriculum delves into the following categories of interculturality:  
geography and climate, 
people, 
indigenous groups, 
animals, 
nature, 
food, 
art, 
unique lodging and more
This is discussed for each culture while at the same time introducing and embedding structures and vocabulary in entertaining and pedagogically sound ways that include a lot of repetition and carefully interwoven language. 
This is a unique homeschool Spanish curriculum with innovative features that capture the Gen Z student who needs interactivity in the classroom in order to stay engaged and motivated to learn. 
Is the Spanish Homeschool Curriculum Comprehensive?
AP themes are appropriately introduced, global challenges are pitched, and suggestions for further investigation are offered. We include topics of science and engineering, as well. 
We look at how other countries are trying to save the planet and some of their accomplished citizens. Imagine your children learning about the blue whale found off the coast of Chile while at the same time learning Spanish! 
This is a homeschool Spanish curriculum like no other! Students can learn about the electric stairs in Medellín and a unique system for recycling in Costa Rica. They can learn that men knit in some cultures and that painting animals on the outside of your house is common in Colombia. Children can begin to compare cultural practices in Spanish-speaking countries with their own and think critically about these similarities and differences. 
Discussion questions are included in this homeschool Spanish curriculum along with activities to help your children practice speaking Spanish. You may have tried other digital platforms to teach your children Spanish, but this is truly a new and different approach! If you think learning Spanish while learning interesting things about Spanish-speaking countries sounds engaging, just give it a try. 
You can start by looking at the program features and how they work at FL4K.com. This is a whole homeschool Spanish curriculum for your children! Let your children check out the features online at our website! There is a lot to explore! 
Check it out soon while a good bit of summer is still looming and kids are asking what they can do for fun. Have them try learning Spanish in a very different way!