Articles
/
Adapt Your Lessons for the Needs of Gen Z and On!
Adapt Your Lessons for the Needs of Gen Z and On!
Holly Morse
November 09, 2021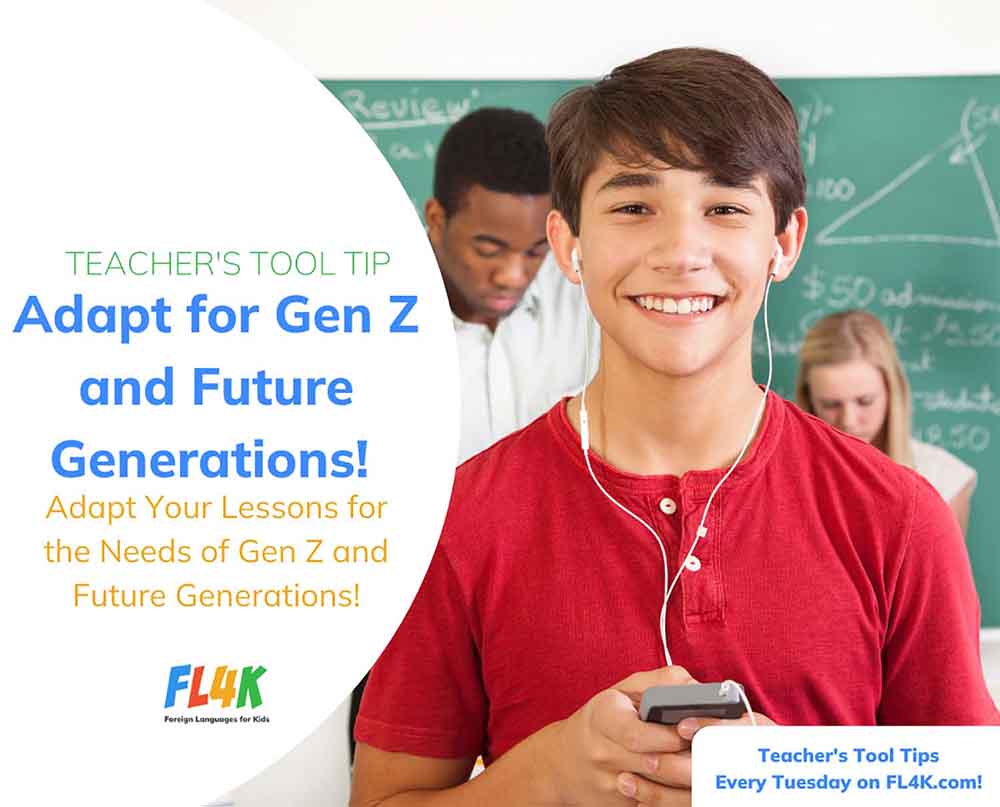 Reading Time:
3
minutes
My husband used to chide me about spending too much time on my lesson plans. After I had been teaching for a few decades, he actually said to me, "Don't you have this down to a science by now?" I answered emphatically, "No! Teaching is not a science; it is an art!" He looked at me like I was crazy, but I knew from first-hand experience through my 43 years in the classroom that I had to maintain a growth mindset in order to meet the needs of the generations. Even though I was not a digital native, I wanted to learn how to teach them; and, more importantly, how to engage them in fun language learning for communication in the real world. The truth is that I had to work at this approach until my last day in the classroom.
Why was I willing to keep adapting to the needs of my students? Because I wanted them to love language learning and be successful. I wanted them to be motivated, encouraged, and always growing in confidence about their progress in developing practical language skills. 
Gen Z students' needs in the classroom
So, let's take a look at what these modern-day learners need in general according to many sources that I read on the internet:
real-world communication skills,
intercultural inquiry, 
a social media approach,
differentiated and individualized curriculum,
hands-on activities,
music and songs,
and innovative activities to name a few.
It's a lot to consider when planning for successful language learning to take place and, actually, there are not many curricula out there that do all this.
The problem with textbook-learning
Most traditional textbooks still take a grammar approach that completely defeats and bores the majority of GEN Z language students. They simply cannot learn the system as fast as a textbook tries to teach it because there is too much presented too fast, and not enough practice embedded in the curriculum. The vocabulary lists are too long, and the books are lacking in interesting content that includes interculturality.
Many teachers make the mistake of racing to complete a textbook with little regard for the practical use of the language that their students are learning. If you have taken any courses in language acquisition along the way, you know that true language acquisition is a slow process.
If your district or school mandates the use of textbooks, consider cutting the vocabulary lists in half, and only completing half of a book in a year. Basically, SLOW DOWN and have fun in the classroom. Give the students a lot of innovative ways to practice simple chunks of language with grammar, vocabulary, and interculturality naturally interwoven. You will be amazed at how much more engaged and consequently more successful your students will be. 
How to ease the lesson planning process
Now, here's the challenge that most of us confront.
It is time-consuming to create the perfect lesson plan to excite and engage the Gen Z student. Where can we find a toolkit for such instruction that includes motivating music and songs, hands-on activities, innovative activities that provide practice in interpersonal, interpretive, and presentational modes of communication and includes the other 4 C's of the ACTFL World-Readiness Standards, Connections, Comparisons, Communities, and Culture?
Consider attending ACTFL 2021, November 18-21 to find the latest in resources for language teachers who have a growth mindset and truly want results! Take a look at the many workshops being offered this year. If you want to hear more about this topic or some of the others I have been writing about, you can join my colleague, Elena Giudice, and me for these two workshops:
#OneStopShop for Novice-Intermediate Oral Proficiency Gen Z teachers at 1:40 PM on Friday, November 19; and
#WishlistComeTrue: InterWeaving Interculturality for Gen Z!  1:50 PM on Saturday, November 20.
We would love to be in dialogue with you about teaching strategies for Gen Z or any of the other topics discussed about language learning in my blog posts. 
Missed my past Tool Tips? You can read about the Can-Do classroom, the importance of building relationships with your students, and the Student-Centered Classroom on FL4K.com right now!
Be sure to follow FL4K on social media through the links at the very bottom of this page so you don't miss the next Tool Tip and other language fun!