Articles
/
Beginner Spanish Games: Pronoun Game Pt. 4
Beginner Spanish Games: Pronoun Game Pt. 4
Hannah Silva
September 07, 2022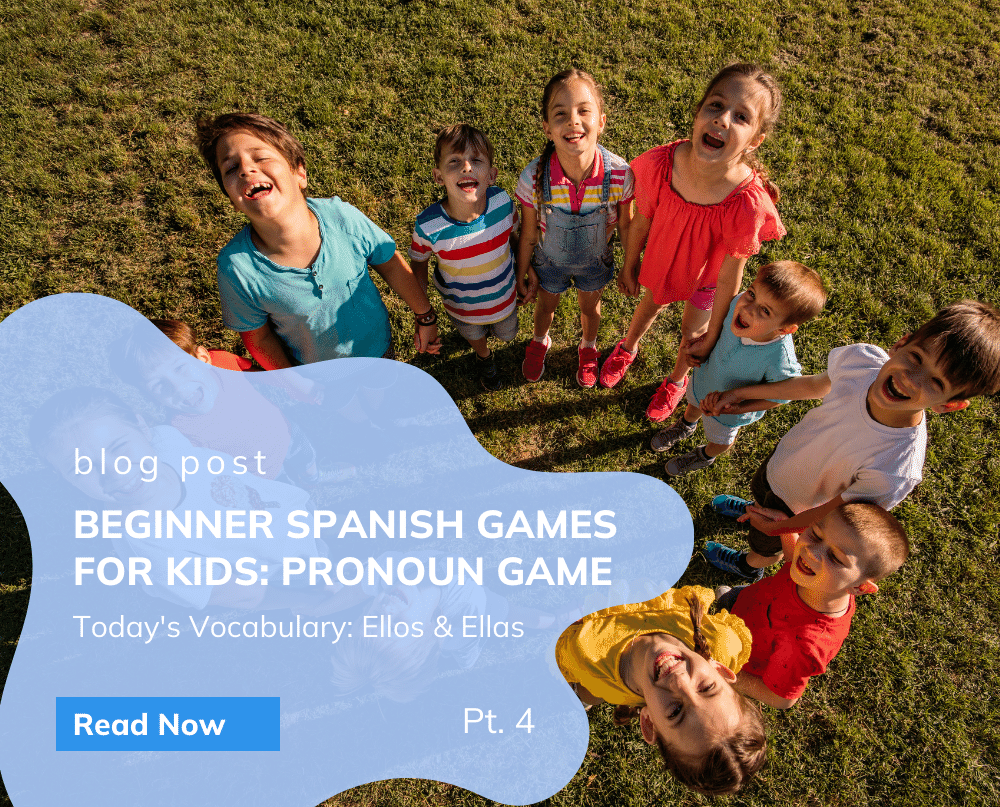 Reading Time:
3
minutes
Game Time! 
Fun and quick 5-10 minute games that will teach your students to speak Spanish
Today we're back with the next level of our Pronoun Game and our last round of pronouns to learn. But stick around for next week's "Game Time!" post because we're sharing a bonus round with new words to learn with this game!
For now, though, we'll get right into this week's level! If you missed the previous parts of this game, you can find all of them on our blog page. Don't skip those to jump into today's level, as each level builds on top of each other to give enough time for your students to get comfortable with the vocabulary one step at a time!
In Part 1, we also go into depth on why games like this are especially effective and tips on how to get the most out of them. So you'll want to check that out!
Time to jump in!
Pronoun Game 
Part 4
Learning objective
Students will learn and use two new Spanish personal pronouns: "Ellas" (girls, plural), and "Ellos" (boys, plural)
⏲ Time needed
 < 5 minutes
✏️✂️ Materials needed
Optional: non-stick tape.
👩‍👧‍👦 Ages
For anyone who is game to play! Learning in a playful and different way helps everyone remember the Spanish vocabulary long-term.
Step 1
Have your students stand and form a circle, or make a large square on the floor from non-stick tape big enough for multiple students to fit inside.
Variation for a single student: Use stuffed animals, photos, or family members and put them into pairs in a line facing your child. Move on to Step 5.
Step 2
When all your students have formed a circle, the teacher or parent will call out either ellas (girls, plural) or ellos (boys, plural).
Step 3
If the teacher calls out ellas, all the girls will jump into the circle. If the teacher calls out ellos, all the boys will jump into the circle. 
Step 4
Once the students get the hang of the vocabulary, have the students loop arms with one of the students next to them to pair up. Have one student move to the middle of the circle.
For an odd number of students, have one group of three.
Step 5
The student in the middle will point around the circle at each pair, saying either ellas (if the pair has two females) or ellos (if the pair has two males, or a male and female). After completing the circle, the student will switch with another student and the next student will move to the middle and repeat.
How have your students been enjoying this game? Have you noticed an improvement in their natural ability to recall this vocabulary? Let us know by emailing info@fl4k.com with your thoughts, results, or even photos and videos of your students playing this game!
We'll be back next week with our final bonus round – don't miss it!