Articles
/
Focus On the Individuals in Your Classroom
Focus On the Individuals in Your Classroom
Holly Morse
November 23, 2021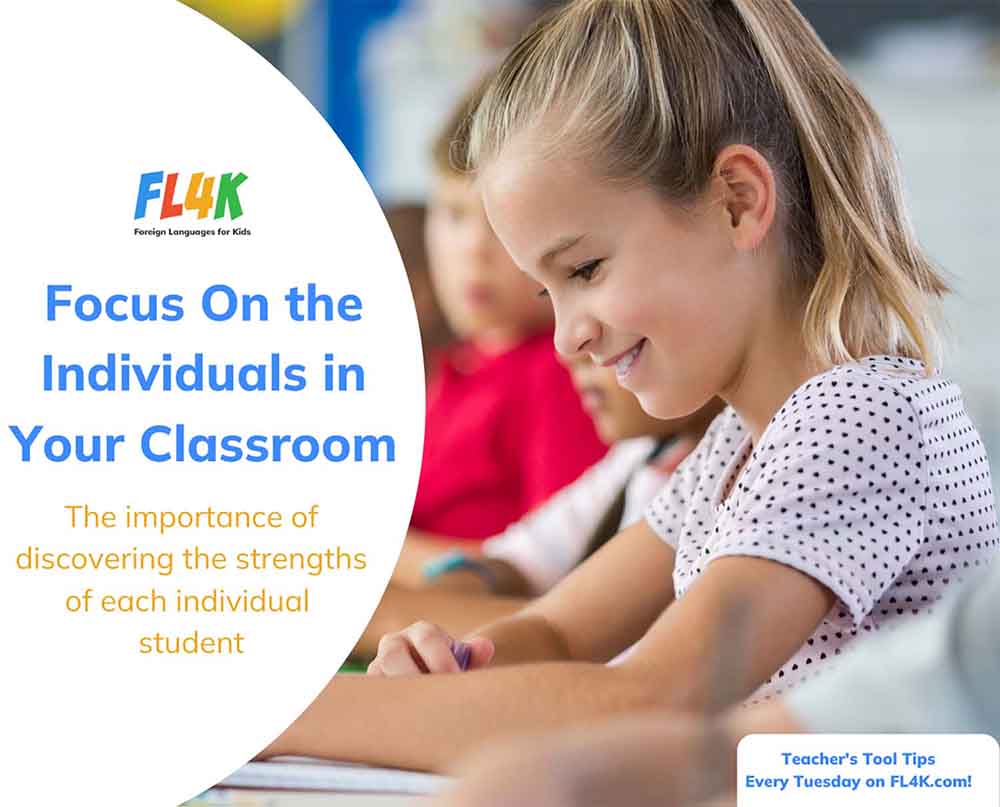 Reading Time:
3
minutes
Previously, I mentioned the importance of building community in the classroom in order to create a safe space for all learners. Today's blog is about the importance of discovering the strengths of each individual student.
As teachers, we often get so focused on our lessons that we forget to prioritize making a personal connection with our students. Every child has some attribute or interest that we can tap into as a way of reaching out in a personal way, whether it is a talent in music, art, sports, academics, or an interest in health and wellness, animals, cars, nature, or video games, etc. Once determined, it is important to integrate their interests into the lessons, giving them a chance to shine in their own unique way.
When they feel noticed and cared about as a whole person, not just as a language student, a certain buy-in begins to happen.
As a mentor to newer teachers, I have often seen that students can be very hard on the authoritarian teacher who spouts all kinds of rules and threats about grades. On the other hand, a teacher with a human connection will be forgiven of a multitude of mistakes. This is a simple truth of teaching and so important for the inexperienced teacher to note! 
Consider the strengths and weaknesses of their individual skills.
In addition to tuning in to the different interest levels of your individual students,  it is important to consider the strengths and weaknesses of their skills.
Every child's brain is a unique landscape that the teacher must appreciate and learn to navigate. To expect each child to perform the same tasks in the same way is terribly unrealistic.
I always told each student that I was tracking their own personal progress in the class. I would let them all know that I was well aware of their different skill sets and was comparing them to themselves, always noticing their personal progress!
Of course, I used rubrics that applied to the whole class for everything I graded, but I was quick to note how they were improving compared to themselves and would reward them for their efforts.
To not compare them to the class superstar was motivating to them! Most students felt that they could do better no matter where they were at the time! This is the "can-do" classroom.
Often, I chose different difficulty levels and length reading assignments for my students or paired them strategically for a better outcome. Many students developed friendships in my classroom because I gave them opportunities to help each other and work cooperatively for the best outcome!
How FL4K incorporates the importance of differentiation in world language
Knowing the importance of differentiation in the world language classroom, at FL4K we have built leveling into our culture program, creating culture posts for 11 different countries with ten different variations for each post that include Low-, Middle-, and High-level cards depending on the frequency of the classes, the expertise of the teacher, and the age and reading development skills of the students.
Within each level, we have created an English version, a direct Spanish translation for the Heritage speakers, and a simple Spanish version for the teachers who adhere to the 90% target language in the classroom theory.
Students 2-6 grade can all learn about the pink dolphin of Perú, but with varying amounts of details according to reading and developmental skills, and Spanish language skills. For the high school student, we have included more sophisticated opportunities for investigation, discussion, comparison, and reflection questions in the target language as well as activities that stimulate conversation at both the novice and intermediate level of language proficiency. Conceivably, students in the same class could be learning about the pink dolphin, but with short segments that are tailored to their particular skill set, setting them up for success and continued motivation as a result.
When students experience success, they build confidence, and soar!
Let me know what you thought of this week's Teacher's Tool Tip! and while you wait for next week's tip, learn how you can get early access to our groundbreaking language program, and be sure to follow FL4K on social media through the links at the very bottom of this page so you don't miss the next Tool Tip and other language fun!
Missed my past Tool Tips? You can read about the Can-Do classroom, the importance of building relationships with your students, the Student-Centered Classroom, and much more on FL4K.com right now!