Articles
/
International Women's Day Spotlight: Elena Giudice
International Women's Day Spotlight: Elena Giudice
Hannah Silva
March 08, 2022
Reading Time:
2
minutes
March is Women's History Month. A time to celebrate the contributions and achievements of women and their impact on the world throughout history. Women's History Month also holds International Women's Day today, on March 8th. Today, to celebrate International Women's Day, we would like to highlight the achievements and contributions of one of the many dedicated women who work with us here at FL4K, Elena Giudice. 
Elena is our lead consultant, working with our team of teachers to create and develop the curriculum for our new online Spanish program for kids. As well as working with us at FL4K, Elena is also an upper campus Spanish teacher at the Palm Beach Day Academy in southern Florida. She was born in a bilingual home in Ponce, Puerto Rico with a family of many educators. She studied combined foreign languages and intercultural communication in school earning an M.A. from the University of Maryland. She has studied many languages and is fluent in English, Spanish, and French, and has lived in many countries abroad before settling down in southern Florida. 
She is dedicated to the pursuit of "curing monolingualism" by building awareness and advocacy for prioritizing languages both in and out of the classroom. Elena believes that language does not only live inside the classroom but can take hold throughout the student's life. In an interview with PBDA, she said, "If we do it right in the classroom from Kindergarten through college – meaning we work hard to get our students to really develop fluency and show progress as well as interest – then they will demand the same for their children." 
Viewing teaching in this way can really add a lot of purpose to your day-to-day teaching, and you can see this in the extra effort Elena puts into finding creative ways to help her students prioritize their learning of additional languages. Some of her techniques involve incorporating fun and hands-on activities and connecting world language with other things outside of the language classroom. One of her class's field trips was to an art exhibit by Colombian artist, Federico Uribe, whose work happened to tie into another ongoing project at their school. Because of this connection, they are using their language skills to figure out how to speak about that project in their language.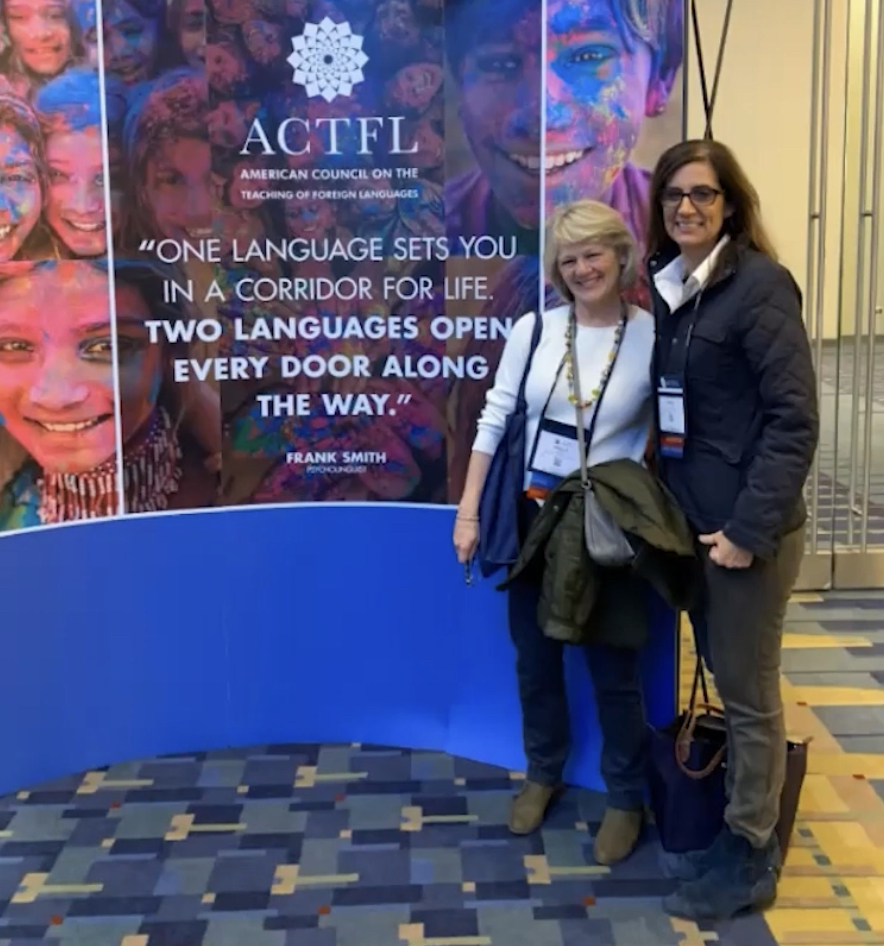 Elena finds many opportunities like this to encourage world language beyond the classroom and make learning fun and exciting to learn; however, she also makes sure her classes are taught well and most effectively by incorporating ACTFL standards into her curriculum to ensure her students are able to develop oral proficiency. In a post written by Elena, she states, "When the emphasis of a program is oral proficiency, students will be the start of a non-stoppable chain reaction, and the strongest advocates of world language." Elena is really looking forward to passing on her love for languages to her first-born granddaughter.
Learn more about her work with FL4K by checking out our new online Spanish program for kids!