Articles
/
Prioritizing Student and Teacher Relationships
Prioritizing Student and Teacher Relationships
Holly Morse
March 01, 2022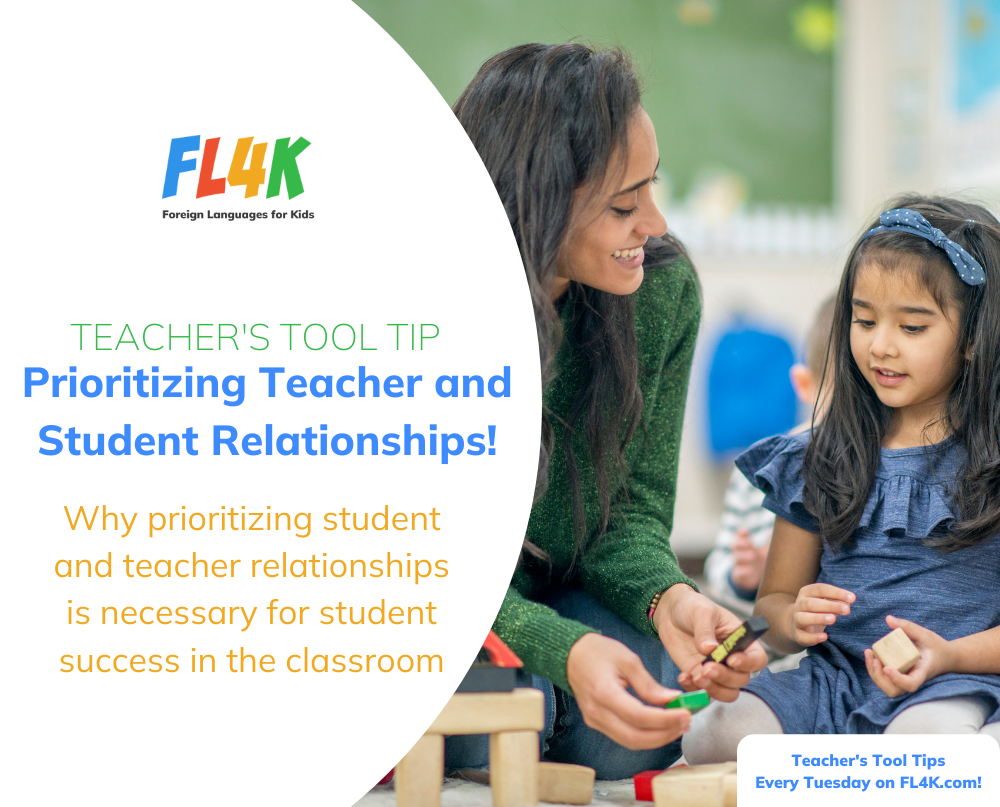 Reading Time:
4
minutes
What I learned in more than four decades in the world language classroom is that positive teacher and student relationships trump learning.
As a long-time mentor to new teachers, this was a pearl of wisdom that I always prioritized sharing with my mentees. I had noticed a trend with inexperienced teachers wanting to compensate for their lack of experience by using an authoritarian approach to the classroom.
Many times this leads to power struggles with students and ultimate annihilation. In this blog post, I will share a few insights into building positive teacher and student relationships and the benefits it offers to reach our ultimate goal of facilitating the learning experience for our students.
Teacher and Student Relationships in the Classroom
Taking a personal interest in your students goes a long way toward motivating them to put forth their best effort in building language proficiency. While it is difficult to balance the need to focus on last-minute lesson preparations as students are entering the class with greeting them in a personal way, never forget that positive student and teacher relationships are necessary for optimal learning. I had to remind myself of this every day! No matter how amazing and creative my lesson plans were, my personal connection with the students would always be the most important factor in their progress and ultimate success.
This tends to be an especially tricky conundrum in the world language classroom! Do we chat with the students in English or the target language at the beginning of class? Depending on the proficiency level of the student, I usually opted for a combination chat just to check in with my students before diving into my carefully crafted lesson.
Sometimes, standing just outside the classroom in the hall as students are entering is a great way to accomplish the same connection without disrupting the integrity of the commitment to using the target language in the classroom.
I remember early in my teaching career hearing a veteran history teacher often asking students about their athletic games, chess meets, music, and drama performances, in the hall. He teased, cajoled, and connected with students personally. I wanted to develop this habit because I could tell it meant a lot to the students but I was a little envious from always feeling like I needed to use the target language to communicate.
Just outside my classroom in the halls became a serious place to connect with students in an up-close and personal way. Not only is building positive teacher and student relationships essential inside the classroom, striving to connect outside the classroom can be just as important!
Teacher and Student Relationships Outside the classroom
Let me share a few incredibly meaningful ways to build teacher and student relationships outside the classroom.
While we certainly appreciate our students understanding the passion we have for our subject matter, they, in turn, appreciate the interest we take in their passions. Commenting on their performance in a play, concert, athletic event, or their artwork on the walls can make them beam with pride. I even liked to tease some of my challenged language students by saying things like, "I love seeing you in your element!"
This lets them know that I did not only see them in a one-dimensional light, "a struggling language student." Believe it or not, many students think we only see them as a letter grade!
Even better than commenting on a performance, consider taking time to attend their events! This is extremely impactful for a young student and the parents, too! They can't believe that you took the time to focus on them personally.
The next time they enter your classroom, they feel connected in a very satisfying way and often will go the extra mile to give you their best effort.
Teacher and Student Relationships Outside the World Language Classroom
You probably can already guess what I am going to suggest. Travel with your students! This creates lasting memories and serves as a springboard for motivation to further language studies.
Students appreciate getting to know you outside the classroom and get excited to put their skills to use! Opening their eyes to the world is something they never forget. Their gratitude comes through in the classroom as they find themselves motivated to continue improving their skills.
While travel is not always possible, finding cultural events in your own community or nearby city that you and your students can explore from concerts, plays, movies, restaurants, to embarking on a service project can serve as a bonding experience.
Think back on your own educational experiences. Weren't the hands-on experiences the most memorable?
My Spanish teacher in high school asked my family to host an AFS student from Bolivia. This was pivotal in my decision to become a Spanish major in college.
Think of how you can further involve your students in the culture of the language you teach. Start an exchange program in your school or find a company that can provide a structure for you. Seek ways to build teacher and student relationships outside the classroom.
Build Teacher and Student Relationships Through Understanding How To Motivate Students
Gen Z is a particular breed of student. They need digital platforms, games, interactive activities, short segments of relevant information, and a variety of activities in every single class.
Understanding who they are and what they need to be engaged in learning can be paramount not only in best practices for language learning, but in building positive student and teacher relationships.
Many teachers fail to build meaningful relationships with their students because they have not explored how to make learning fun and relevant!
Yes, fun!
When students love learning in your class they tend to feel positive about being there with you! Why not make an effort to connect with students you teach? Both you and your students will look forward to the precious time you have together to learn and build skills in language proficiency.
A Single Platform
Looking for a single platform that interweaves interculturality and language proficiency and provides the fun factor for Gen Z?
As a recently retired Spanish teacher trained and certified in AP and the modified oral proficiency interview, an opportunity to be a consultant presented itself.
I could not resist joining a talented team of teachers and Stanford developers and designers to help create a state-of-the-art language program that interweaves interculturality and language proficiency all in a single platform.
It features customizable dialogue practice with built-in language lab capabilities, a 9-country interculturality program that includes cultural comparisons, discussion questions with commenting and polling in real time, and games uniquely designed to build language proficiency, all leveled for novice, intermediate, and heritage language learners. Check it out! FL4K.com
Looking to improve your students' language skills with FL4K? Learn how you can get early access to our groundbreaking language program that teaches kids Spanish the fun way! Sign up for early access here.