Articles
/
The Benefits of Standards-Based Grading
The Benefits of Standards-Based Grading
Holly Morse
January 04, 2022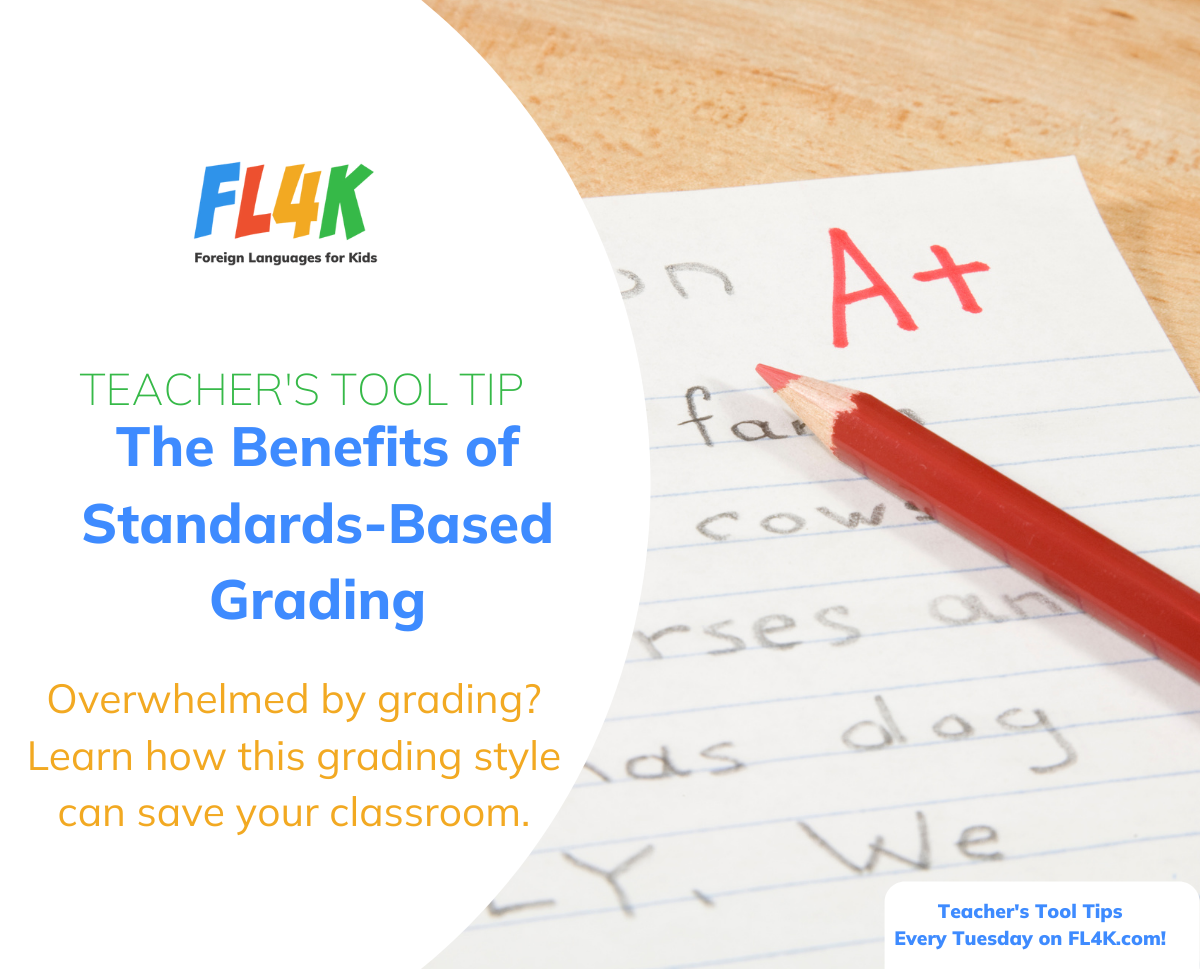 Reading Time:
4
minutes
Have you ever been overwhelmed by grading? Or felt like grading was capricious, meaningless, or even superfluous? Read on to learn how standards-based grading could solve these issues and how to implement it.
What is standards-based grading
What I discovered in the last decade of my teaching career is that Standards-based grading is the most effective way to evaluate language students. Having rubrics that define expectations clearly according to standards helps students to find their way to success without confusion about the WHY of their grades.
Putting a grade on a students' project, presentation, or any evaluation without expectations thoroughly explained ahead of time and a clear explanation of how a student performed compared to those expectations, leads to frustration and lack of motivation to improve.
As I started to shift to grading students according to their proficiency and performance levels, I saw not only a vast improvement in the quality of their work but a willingness to try harder to improve. 
How to implement standards-based grading
As an AP grader for many years, I have grown to like the global grading that we do for thousands of students. Our rubric very clearly defines, "Strong", "Good', "Fair", "Poor", etc. A few years ago, I started using these words with my students at all levels to evaluate their work in comparison with the ACTFL proficiency and performance targets for my classes. These simple words speak to students in a way that they understand what is good or lacking about their work. Of course, I define what "strong" is for them using the standards as assigned to their level of study.
In our program, we have our courses named according to the target proficiency and performance levels. A Novice 1 class has the targets in the range of Novice Low and Mid.  A Novice 2 class has the target of Novice High, for example.
This makes it very clear what the targets are for any particular course and helps students to work toward target goals for proficiency ranges versus a percentage correct on a fill-in-the-blank quiz. This way of evaluating is logical and gives students parameters as well as realistic goals to meet.
In a class where Intermediate Low is the goal for the students, guidelines for a short presentation might be: In order to get a  "Strong" you must:
use new vocabulary
have connector words such as "y", "también", "pero" to show that you can speak in strings of sentences
NOT read your presentation to show that you can create with the langauge
include cultural information that you have learned, etc. It is amazing how students will soar with clear parameters.
Suddenly, they start to perform up to expectations because they are clear about what they need to do. This exercise is so much more useful than filling in the blank with verb conjugations. They are actually using what they know and practicing the skill of speaking another language.  When using this grading system, it is easy to tell the students where they are strong and where they need to improve. This is motivating to students, believe me!
Standards-based grading and differentiation
Another key to fair and motivating grading for language students is to compare each child's progress compared to his own starting skill level.
As impractical as it may seem, it's unquestionably encouraging for a student to know that he is improving! Even the least confident child will begin to make progress if he feels that his own progress matters more than his competence compared to others.
I always made a point in my classroom to find ways for my students to build on their own skills. This could be built into the rubric. The point of grading should always be to help students make progress. You will find that your students are more willing to try if they don't feel defeated by difficult tasks that compare them to the most gifted students in the class. 
Pie-in- the-Sky Grading
My dream would be no grades at all! In the world language classroom. I prefer that students be motivated to speak another language versus to get a good grade that tells them very little about their actual progress in developing proficiency in another language.
Fill-in-the-blank quizzes and tests do not help students learn what they "can do" toward the goal of using the language for communication. It is an exercise in futility that our parents and their parents did; and guess what? Most of them say, "I studied [Target Language] for [x] years and I can't speak a word!" We need to change this and start in our classrooms now.
First, we must become experts in the proficiency standards, and then we must teach students to reach them. We should scrap the curriculum with long lists of vocabulary words to memorize and grammar concepts to master. This kind of language teaching is outdated.
Yes, our students need to build vocabulary and grammar knowledge, but within a context and with repeated practice! When grammar and vocabulary ruled our curriculums, the best and brightest students succeeded in the language classroom, no doubt about it. Some even learned to speak the language due to their talent!
Imagine a new way to teach language acquisition that is all-inclusive!
Everyone can learn a language and improve daily, just not the way we used to teach it! Let's reconsider how we evaluate our students and give them all a chance to succeed.
Let me know what you thought of this week's Teacher's Tool Tip! And while you wait for our next tip, make sure to follow FL4K on social media through the links at the very bottom of this page so you don't miss any updates and for other language fun!
Missed my past Tool Tips? You can read about the Can-Do classroom, the importance of building relationships with your students, the Student-Centered Classroom, and much more on FL4K.com right now!
Looking to improve your students' or children's language skills? Learn how you can get early access to our groundbreaking language program that teaches kids Spanish the fun way! Sign up here.