Articles
/
The Best Spanish Programs for Kids
The Best Spanish Programs for Kids
Holly Morse
January 18, 2022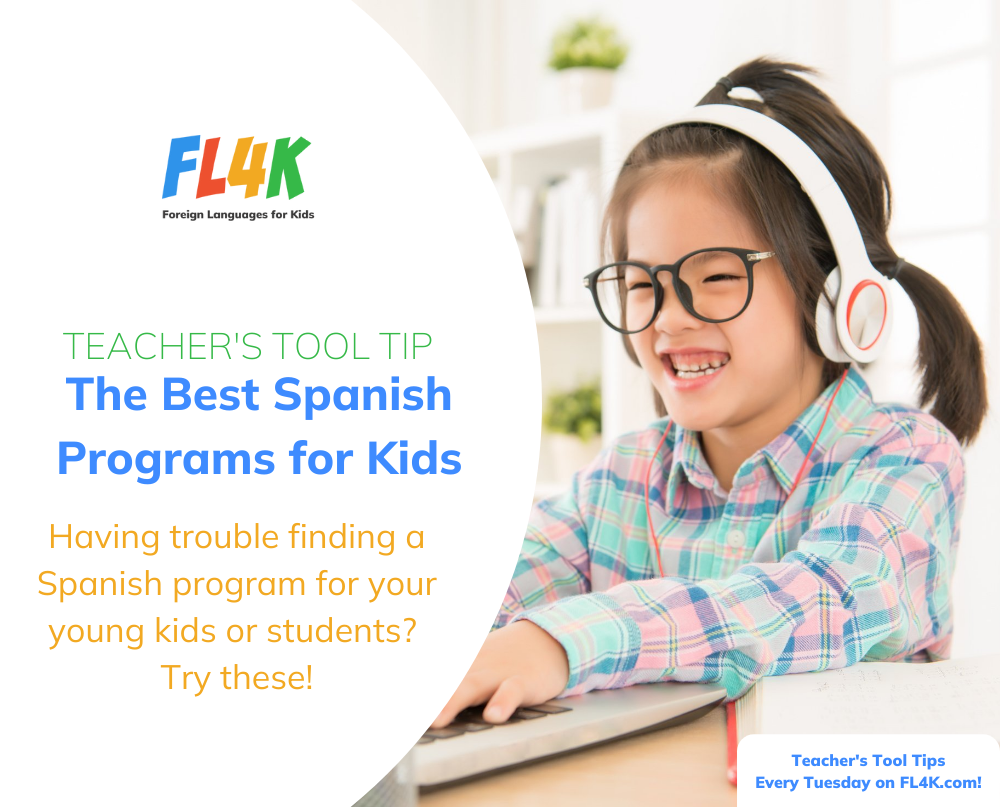 Reading Time:
2
minutes
Trouble Finding Spanish for Kids Programs
Through my extensive career of teaching Spanish in a traditional school setting, I have been approached by many parents who are interested in a Spanish for kids program. Sadly, most schools don't have the resources to finance an elementary school world language program and many children miss out on the extraordinary experience of learning a second language from a young age.
I started my career developing a pilot Spanish for kids program without having had any formal training in how to do it. Since then, I have learned a lot more about language acquisition from both professional development and experience and have continued to build my repertoire of ideas for the best ways to help kids develop proficiency in Spanish. Even though there are no magical Spanish for kids programs, I have discovered some practical solutions to getting young children started.
A Spanish tutor
First, you can hire a Spanish tutor online or in person. During the pandemic, I was approached by some friends to teach their granddaughter Spanish online. At the time, she was 10 years old and I wasn't sure how I would captivate her through a computer. During the entire first year, I used Rockalingua with her, a very cleverly written song-based Spanish for kids program online.
Every week we would start a thematically-based lesson with a song followed by games and worksheet activities to reinforce the vocabulary. It was fun and successful enough that my young student made steady progress in building proficiency and enjoyed the experience. As she built vocabulary, I was even able to extend our lessons to include interpersonal conversations.
EntreCulturas, a proficiency-based textbook
The second year we progressed to using a proficiency-based textbook, EntreCulturas, published by Wayside Publishing, Inc. While the book is not specifically designed for a Spanish for kids program, it is designed according to proficiency levels and I thought it had some possibilities for this young language learner.
Every page is full of reading, writing, listening, and speaking activities that promote proficiency. The lessons are also culturally rich including authentic materials, videos of conversations with native speakers, and spectacular images. I actually use this book with adults, too. 
FL4K's Spanish for Kids Program
In the last six months, since retiring, I have been part of a teacher-team updating and creating an innovative and interactive state-of-the-art Spanish for kids program designed especially for Gen Z, FL4K (Foreign Languages for Kids).
It includes unique games that promote proficiency in Spanish as well as a built-in language lab where students can participate in entertaining dialogues and record themselves. The program is complete with a 9-country culture program presented in a social media format with built-in polling, reflection questions that teach students to make cultural comparisons, and information about global challenges.
The format is so user-friendly and includes a complete curriculum guide, hands-on activities, and a sitcom video series that scaffolds language for building proficiency and reinforces it throughout the culture program.
It can serve as a complete curriculum for homeschoolers, in schools, or online tutors.
Spanish for Kids programs for today's young learners need to be relevant to their world and in a format that motivates and engages them. Check out our website at FL4K.com to learn more and to sign up for early access. This is a program you will not want to miss, it's taking language learning to a whole new place!