Articles
/
Why Engagement Strategies are Essential for Gen Z Students
Why Engagement Strategies are Essential for Gen Z Students
Holly Morse
February 22, 2022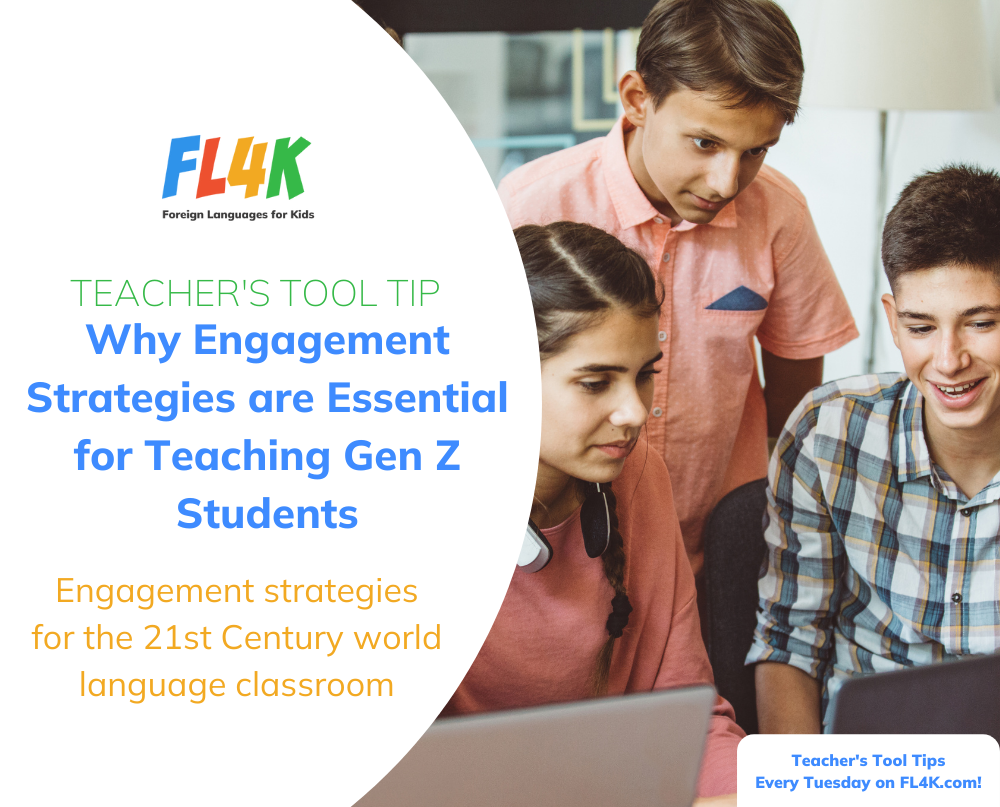 Reading Time:
5
minutes
This Week's Teacher's Tooltip: Engagement Strategies are essential for teaching Gen Z students
Engagement strategies for the 21st Century world language classroom.
Do we really need them? You bet. I might even call them "survival" strategies in the Gen Z classroom.
This is a generation of language learners that have information at their fingertips and dopamine oozing from their pores as a result of regular digital stimulation from an early age. How can you expect these students to sit in their seats and listen to the drone of projects being presented or lengthy grammar explanations? This is totally unrealistic!
Engagement strategies must be considered for our Gen Z language learners in order to help them successfully build language skills for real-world use. Here are a few simple ideas to enliven your classroom!
Engagement Strategy #1: Create opportunities for interactivity among students every day
This is not rocket science! In my last decade of teaching, 2010-2020, I had to maintain a growth mindset in order to survive. This meant that my traditional ways of teaching from the 80's were not going to keep my students engaged. I had to expand my toolkit in order to help my students build proficiency in speaking Spanish!
Having them sit and listen to presentations was becoming deadly. I started having students present to each other on their devices to make it more interactive while I circulated the room to listen and evaluate globally. I even had students create QR codes for presentations that their classmates could listen to and comment on. I used collaborative apps like Padlet where students could comment and share their work.
I did not have time to read books about engagement strategies. I had to get creative and figure out how to make my classroom more dynamic so that my students were motivated to build skills in proficiency according to the ACTFL language performance and proficiency standards.
Here is another idea that helped my novice high and intermediate students learn to ask questions. For a warm-up or wrap-up engagement strategy, a few assigned students would simply project a photo to the class about something they did over the weekend, summer, or any picture related to a thematic unit, for that matter. The student presenting has nothing prepared other than a picture of interest.
The other students spontaneously ask questions about the picture, e.g.
"¿Dónde estás?
¿Con quién estás?
¿Por qué estás/estuviste allí con ellos?
¿Cómo se llama el restaurante/ la playa/ la película, etc.?
¿Cuándo fuiste?, etc.
Creative teachers will think of a million variations of this!
I kept track with Class Dojo or even an old-fashioned grade book of who asked questions for consideration in their effort and attitude grade. You could also evaluate the proficiency skills of the student presenting the photo according to a rubric that you have provided ahead of time that includes specific language proficiency goals for the level of the class. The novice-mid students would be encouraged to speak in phrases while the novice high and intermediate students would strive to connect sentences and begin to use time frames.
Engagement Strategy #2: Make games a part of everyday learning
Again, as a teacher from the 80's, I had to learn about Kahoot, Blooket, Quizlet Live, etc. to engage my Gen Z students.
I heard many of my colleagues denying the necessity and effectiveness of these digital tools. Many could even be heard saying, "It's not my job to entertain these kids!" While I agree with that retort, considering engagement strategies, there are few as popular and motivating as online games. The one problem with most of these popular games is that they weren't created specifically for language classes and often are nothing more than vocabulary builders rather than proficiency builders.
Still, I've never seen anything much more engaging than a few rounds of Quizlet Live. This digital game randomly creates teams that compete to finish matching words, phrases, pictures, whatever the teacher wants to create.
After one team won two consecutive rounds I shuffled the teams. Each student kept track of how many times they were on the winning team and the student with the highest score went on our class leaderboard.
Crazy. Simple. An engagement strategy.
Within Quizlet, there is a search option to find all the games that you or other teachers have created. This is not only an engagement strategy; it is an effective tool for helping students build vocabulary.
Be sure to check out more games online. There are so many good ones that can create an unbelievable dynamism in the World Language classroom.
Engagement Strategy #3: Commit to having a student-centered classroom every day
One idea for doing this effectively on a regular basis is to give students a topic to discuss with a partner or in small groups related to a unit theme. Once the students have learned the vocabulary and/or structures for a unit, think of a clever conversation for them to have with each other and to record for accountability. Be sure to structure the conversation by giving the students a few bullet points outlining what needs to be covered in the conversation that may include structures, time frames, vocabulary, etc.
Students respond so positively to being given the freedom to leave the classroom to find a quiet place to record.
I gave the students a very strict time frame that included time for them to plan their conversations. Simultaneously, I watched on my own device as the recordings came into our learning platform to be sure all are accountable.
Another tip is to randomly group them so they all get to know each other in the class. Sometimes I grouped a strong and weak student or a shy and an outgoing student together, knowing that the more confident student will provide a model.
Taking myself out of the center stage of the classroom was not only less exhausting for me, but it was also an engagement strategy to give students an opportunity to practice real-world communication skills.
The key to getting good recordings is to provide very clear instructions and to review the evaluation rubric ahead of time with the students so that they know exactly what is expected of them. This is an engagement strategy that can be used for both formative and summative evaluations for every unit! Students not only build proficiency with these conversations; they build community with each other, too.
Engagement Strategy #4: Teach dynamic content in short segments interweaving thematic vocabulary, practical phrases, and scaffolding grammar structures
The World Language classroom can be a big bore if students are simply learning the words for clothing, rooms in the house, food, etc.
The Gen Z language learner needs to be intrigued and enticed with interesting content.
Many textbooks do a poor job of creating short fascinating cultural segments that interweave proficiency and interculturality. To learn about schools in other countries, while fascinating to us teachers, just doesn't cut it for the digital native with fast facts at his fingertips.
Teachers need to find more dynamic cultural information for students and present it in small chunks with familiar vocabulary and structures in order to reinforce the practical language they are learning. Teach about unusual food, clothing, houses in the target culture. Get students thinking about how language is a gateway to different worlds!
Engagement Strategy #5: Find a single platform that serves all these engagement strategies
As a recently retired teacher, I had begun to look for opportunities to share some of what I learned in my four decades of teaching Spanish. Fortunately, a group of developers, designers, and expert teachers invited me to join their team in creating a state-of-the-art language program that incorporates many engagement strategies for the Gen Z student in a single platform!
It includes interactive games and practice questions as well as dialogues with recording features, and an engaging culture curriculum that covers 11 Spanish-speaking countries with polls in real time, commenting features, discussion questions, and hands-on activities all interweaving proficiency and interculturality in an innovative and interactive way. Check it out at FL4K.com!
Missed my past Tool Tips? You can read about the Can-Do classroom, the importance of building relationships with your students, the Student-Centered Classroom, and much more on FL4K.com right now!
Looking to improve your students' language skills? Learn how you can get early access to our groundbreaking language program that teaches kids Spanish the fun way! Sign up for early access here.